FlowStories
Using patient journeys to understand and improve patient flow
FlowStories is a highly interactive one-day workshop that uses individual patient journeys to give data a human face and demonstrate the impact of patient flow. Everyone agrees that we need data in our efforts to improve patient flow. But all too often that data is too high-level, too abstract and too 'general' for people to see the relevance of it for patient care. FlowStories positions individual patient experience centre-stage in the way we bring data to bear on patient flow.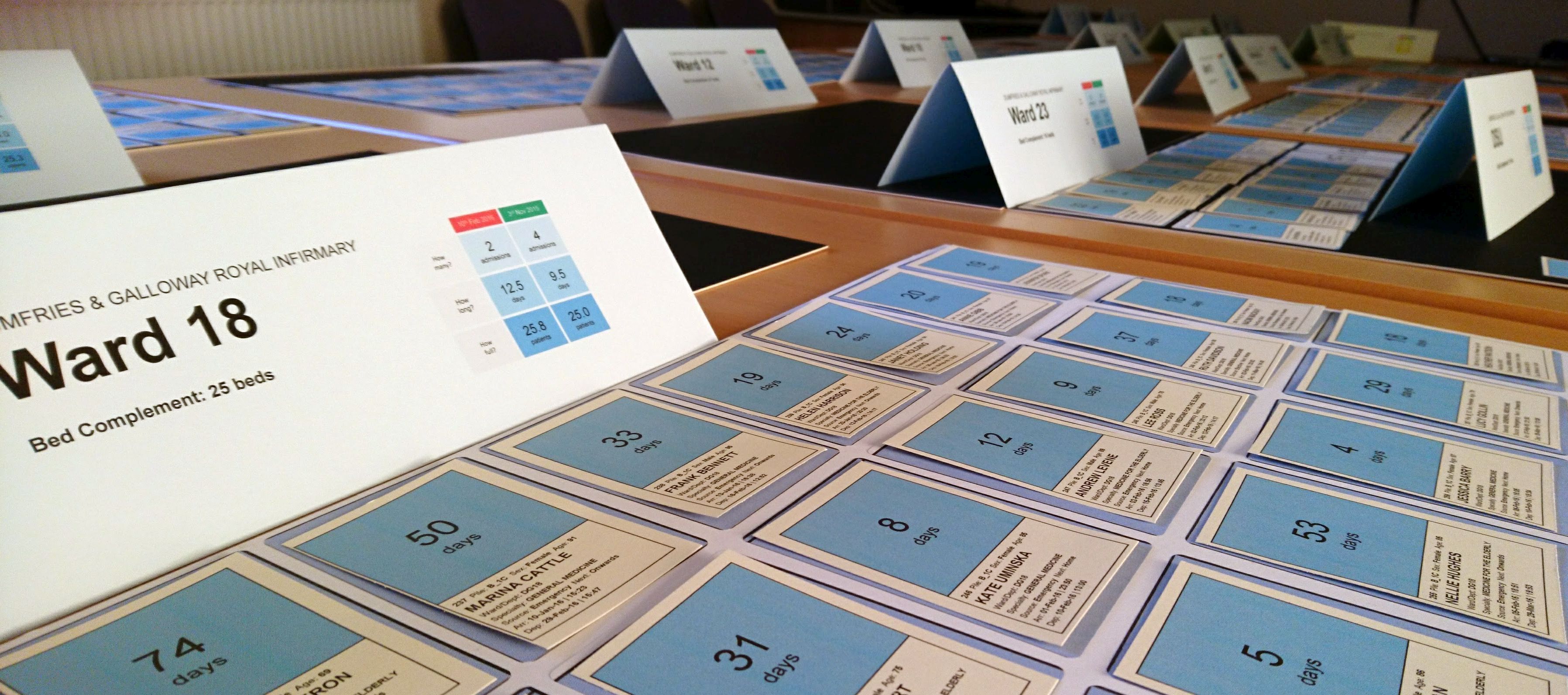 FlowStories focuses on the patients who arrive into the main specialty ward beds in a general hospital. The specialty wards are the third 'staging post' after patients have passed through—first—the Emergency Department and—second—the assessment/admissions ward. FlowStories shows how to involve the staff in each individual specialty ward area by focusing on how the patients in those areas can suffer as a result of poor patient flow.
FlowStories shows that the principal cause of poor patient flow is that specialty ward beds are too full too often. Using individual patient stories we show the poor outcomes associated with that over-fullness.
FlowStories shows how a focus on length of stay is the way to solve the problem, that individual clinicians in specialty wards have to be able to see length of stay at both an individual patient level and at an aggregated level if they are to have a chance of controlling and reducing it.
FlowStories shows how quickly a change in length of stay will affect bed availability, and what the magnitude of this change needs to be.
FlowStories shows the impact on other silos in the patient flow journey For example, Assessment/admission wards and the Emergency Department.
FlowStories shows how to set up a regular reporting mechanism so that data can be used at individual ward/specialty level to monitor activity, length of stay and occupancy.
---
Session 1
9:30 to 11:00
Actual flow stories, patient by patient
If we want to see what patient flow looks like from the perspective of a patient, we can look at individual flow stories. These flow stories allow us to zoom in on how full the specialty wards were at the time they arrived. It is this fullness that really does appear to be the problem (as opposed to the other things that people tend to identify as the culprits).Downstream fullness can be measured but it can also be calculated. If we can identify the 'ought-to-be' level of fullness for a specialty ward area, we can experiment with the other two numbers (activity and length of stay) to see what we need to do in order to achieve that desired level of fullness. .
Session 2
11:15 to 12:45
So we want lower fullness, but how can we specify exactly what this new level of fullness needs to be?
1. One way is to draw a scatterplot and then put a set square on top if it. (Several scatterplots, each of them with downstream fullness on the x-axis and a measure of dysfunction – boarding, length of flow) on the y-axis). 2. Another way is to take the measured fullness jagged line and manually drag it down until we get an improved/acceptable level of overflow. 3. Another way is to find out if there were any days when the specialty always had at least one empty bed, cherry pick those days, then calculate the average fullness for those days. 4. Once we've got the average fullness pinpointed, we can now see what our ought-to-be length of stay needs to be if we want to achieve the new level of fullness 5. We then need to work out what this new length of stay will look like when we get down to patient level – is it all lengths of stay reduced by 8%, or is it that we just concentrate on the patients who stay longer than a week, or do we look to see if there are any examples of good length of stay already within the system? 6. For example – individual consultants or individual chunks of time or adjusted for delay .
Session 3
13:30 to 15:00
3. If we want to achieve this new ought-to-be level of fullness, we have to reduce length of stay (I think we need some modelling here – I think we need to do an actual Flowopoly replay thing here where we just look at the downstream area – 6 ins per day plus 6 outs per day = 12 transactions per day, if we do a week that will be 84, if we do four weeks that will be 346)
1. We want to know three main things: (a) will it work and (b) if it will work, how quickly will it work? (c) will there be knock-on effects on other parts of the system? 2. Let's do some modelling scenarios. First, what if we do something with delays (DTOCs)? 3. Second, what if we take a chunk of time when the specialty was managing to 'live within its envelope' 4. Third, what if we find the consultants with good LOS and transplant theirs to everyone else? 5. We need to end this session with a clear sense of answers to the three questions we posed at the start of the session. .
Session 4
15:15 to 16:30
What is the reporting set-up we need if we are to get clinicians looking more seriously at length of stay – the weekly, monthly reporting routine etc.
1. Identify the timetable/routine – weekly, fortnightly, monthly, whatever 2. Start with the thing you are trying to change – so start with length of stay 3. Then fullness 4. Then boarding and other measures of dysfunction 5. Then look at how other silos have been affected by it. .
---
FlowStories is an open workshop with individual places costing &pound250+VAT. Up to 36 participants can be accommodated in a workshop session facilitated by Neil Pettinger. Email info@kurtosis.co.uk to book a place on the FlowStories workshop scheduled fro Friday 19th November 2021 at Wallacespace Covent Garden.